Georgia River Basins
Click on a basin to view real-time streamflow sites.
DATA CENTER
USGS IN YOUR STATE
USGS Water Science Centers are located in each state.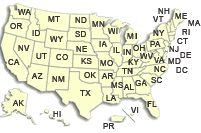 Water Data by Georgia River Basin
Georgia River Basins
NWISWeb provides access to water-resources data collected at approximately 1.5 million sites throughout the Nation. Click on the links below for each topic to go to the NWISWeb page, or you can go to the main Georgia NWIS Web page, or the National NWIS Web page. This page allows you to use river basins to narrow your search for sites with real-time and daily-mean hydrologic data in Georgia.
Additional information about NWISweb is available from USGS Fact Sheet FS-128-02.
(

- To open the link in a new browser window, hold down the SHIFT key as you click a link.)
Altamaha River Basin
Real-time data:
Daily mean data:
Chattahoochee River Basin
Real-time data:
Daily mean data:
Coosa-Tallapoosa River Basin
Real-time data:
Daily mean data:
Flint River Basin
Real-time data:
Daily mean data:
Ogeechee River Basin
Real-time data:
Daily mean data:
Satilla-St Marys River Basin
Real-time data:
Daily mean data:
Savannah River Basin
Real-time data:
Daily mean data:
Suwannee-Ocklockonee Basin
Real-time data:
Daily mean data:
Tennessee River Basin
Real-time data:
Daily mean data: