Groundwater Information and Data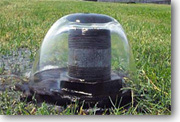 The U.S. Geological Survey collects groundwater level data at thousands wells nationwide. The USGS provides long-term, accurate, and unbiased information that meets the needs of many diverse users. The USGS collects groundwater data needed by Federal, State, and local agencies for planning and operating water-resources projects and regulatory programs.
The links below allow you to find information and data about Georgia's groundwater resources.
(

–Opens the link in a new window.)
USGS National Resources
Water-Education Resources
Groundwater Data Requests
---
The Georgia Groundwater Information and Project Support Unit will, upon request, perform database searches using the Groundwater Site Inventory (GWSI) database.
Need More Information?
---