Project Overview
Full Title
Factors affecting nitrogen and phosphorus loads in nutrient-sensitive waters of eastern North Carolina
Location

Tar-Pamlico, Neuse, and Cape Fear River Basins, NC
Cooperating Agencies
North Carolina Department of Environment and Natural Resources, Division of Water Quality, Aquifer Protection Section
Project Chief
Stephen Harden
slharden@usgs.gov
Period of Project
July 2009 – September 2011
Team Members
Silvia Terziotti (USGS
Kitty Kolb (USGS)
Evan Kane (NCDENR, DWQ-APS)
Amy Keyworth (NCDENR, DWQ-APS)
Science Topic:
Agriculture and Water Quality
USGS IN YOUR STATE
USGS Water Science Centers are located in each state.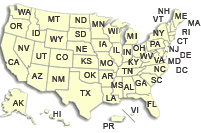 Factors affecting nitrogen and phosphorus loads in nutrient-sensitive waters of eastern North Carolina
This project was completed in 2013. These pages are for historical purposes only.
Introduction
Sandy Run Tributary to Middle Swamp watershed, Greene County, NC
This collaborative project between the North Carolina Department of Environment and Natural Resources (NCDENR), Division of Water Quality (DWQ) and the U.S. Geological Survey (USGS) is being conducted as part of the NCDENR Section 319 nonpoint source (NPS) grant program. The overall goal of the project is to provide needed information to water-resource managers and policy makers for developing and implementing restoration plans for nutrient-sensitive waters (NSW) in eastern North Carolina.
The primary study objectives include advancing DWQ's development and implementation of NSW management strategies for reducing nitrogen and phosphorus loadings in eastern North Carolina by 1) providing data necessary for addressing TMDL allocations and targeting watersheds where restoration efforts will be most effective, and 2) developing methods for identifying watersheds that are most likely to export nutrients (total nitrogen, total nitrate, and total phosphorus) from nonpoint-source pollution.
The proposed work will include computation of nutrient (total nitrogen, total nitrate, and total phosphorus) loads in various streams throughout eastern North Carolina. Most stream sites selected for study are located in the Tar-Pamlico River basin, Neuse River Basin, and Cape Fear River basin; a few sites from the Lumber, Chowan, and Roanoke River basins also will be included (fig. 1, table 1). Statistical analyses will be conducted to examine the influence of particular watershed variables on total nitrogen, total nitrate, and total phosphorus loads at the study locations. The intent of the data analysis is to determine which variables may be a useful indicator for identifying watersheds in NSW with a high potential for exporting nutrients.
Final Report
Relation of Watershed Setting and Stream Nutrient Yields at Selected Sites in Central and Eastern North Carolina, 1997–2008
By Stephen L. Harden, Thomas F. Cuffney, Silvia Terziotti, and Katharine R. Kolb
Scientific Investigations Report 2013-5007