Impact of UMESC Science
Before a new product can be used to control aquatic invasive species, it must be rigorously tested. The results of this study will help resource managers make informed decisions about the use of Zequanox® to control invasive Dreissenid mussels.
Introduction
There is an immediate need for safe and effective control measures to reduce the impact of dreissenid mussels (zebra Dreissena polymorpha and quagga mussels D. rostriformis bugensis) whose attachment and feeding behavior disrupt aquatic food webs and foul spawning habitats, behaviors that threaten native aquatic species like mussels and fish. The range expansion of dreissenid mussels within Minnesota lakes and rivers continues (e.g. ~27 lakes were added to the list since 2009, bringing the total to about 90 waters with confirmed or interconnected dreissenid populations) while management agencies lack access to effective tools to control dreissenid mussel populations in open waters.
One potential tool for limited open-water control of dreissenid mussels is the commercially formulated product, Zequanox®, which contains the killed cells of a specific strain (Pf-CL145A) of the common soil bacterium Pseudomonas fluorescens. Zequanox® is produced by Marrone Bio Innovations (Davis, CA) and it is registered by the U.S. Environmental Protection Agency (EPA reg. # 84059-15) for control of dreissenid mussels in limited open-water environments and in defined discharges (e.g. in cooling and service water systems for industrial facilities).
The goals of this portion of the project are 1) to determine the efficacy of Zequanox® for control of dreissenid mussels in limited, high-value Minnesota waters and 2) to determine the impacts of Zequanox® applications on the invertebrate community. We will select areas within Robinson's Bay of Lake Minnetonka (Deephaven, MN) where the efficacy of 2 concentrations of Zequanox®, applied with 2 different techniques, will be assessed for the control of zebra mussels in limited, high-value, open waters. Replicated enclosures (27 m2) will be prepared at selected locations and assigned to 1 of 5 treatment levels in a randomized study design. Each treatment level will be prepared on each of 3 treatment days.
Three different types of samplers will be used to assess treatment effects. The first sampler type will assess the treatment effects on the colonization rates of zebra mussels on 3 substrate types (wood, stone tiles and perforated aluminum trays). The second sampler type will assess the treatment effects on adult (> ~12mm) zebra mussel survival and the third sampler type will assess the treatment effects on invertebrate colonization rates.
Colonization rate samplers (types 1 and 3) will have pre-exposure colonization rate estimates conducted on representative samplers. Treatment effects will be assessed by either 1) comparing post-application colonization rates between treatment levels (types 1 and 3 samplers) or 2) comparing adult zebra mussel survival between treatment levels (type 2 samplers).
Objective
To assess the treatment efficacy and non-target invertebrate community impacts of two exposure concentrations of commercially formulated Pseudomonas fluorescens (strain CL145A) applied to open-water enclosures using two application techniques.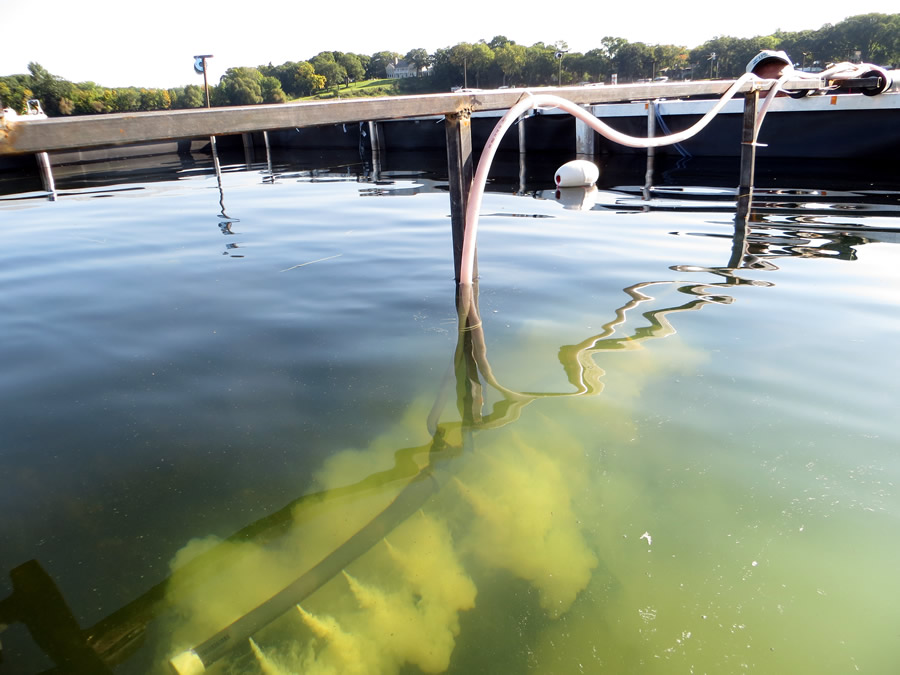 Figure 1: Zequanox applied to a test enclosure in Robinson's bay of Lake Minnetonka