Upper Midwest Environmental Sciences Center
Denitrification and sediment ammonia in the Upper Mississippi River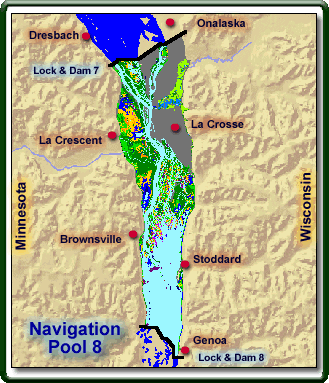 Nitrogen enrichment of the Mississippi River may be the cause of two important environmental issues in the Midwest--high levels of toxic ammonia in river sediments and wide spread hypoxia (low oxygen concentrations) in the Gulf of Mexico receiving Mississippi River water.
We know little about how nitrogen in the Mississippi River is processed, stored, or biologically removed by the River ecosystem. We do know that the flood plain forests and wetlands have great potential to remove nitrogen.
Our objective is to determine patterns of nitrogen uptake and cycling by flood plain wetlands, forest soils, and riverine sediments across seasons and river stages.
From the data collected in the study, we will create mathematical models to help predict the habitats and seasonal conditions necessary to promote nitrogen removal from the Mississippi River and to prevent build up of ammonia in riverine sediments.
For determination of nitrogen cycling over large areas of the River we will initially focus field work on Navigation Pool 8, near La Crosse, Wisconsin.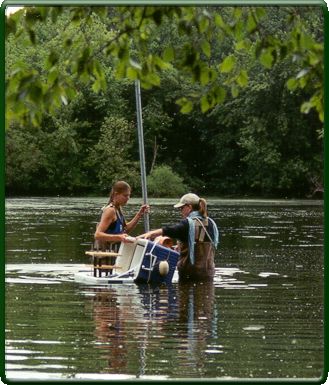 We will determine rates of microbial processes, sediment chemistry, and chemistry of overlying waters at randomly selected sites--half the sites in areas of high, half in low sediment carbon (i.e., with or without aquatic plants).
We will sample these sites in periods of flood and low water stages. We will also determine rates of nitrogen uptake in aquatic macrophyte beds and forested flood plain soils.
Field sampling began in the Fall 1999 and will continue at least through the Fall 2001. The data and models produced here will be extremely useful in determining the potential of flood plain forests and wetlands throughout the basin to remove nitrogen from Mississippi River water and to determine conditions promoting the generation of toxic forms of sediment ammonia.
Principal Investigator: Bill Richardson
Poster presentations available: [ UMESC file types ]
Denitrification in the Upper Mississippi River:
Potential Limitation by Delivery