Upper Midwest Environmental Sciences Center
Fish Passage through Dams on the Upper Mississippi River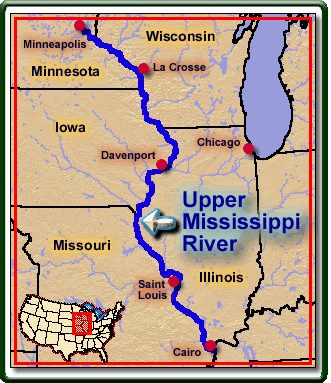 The Upper Mississippi River (UMR) from the mouth of the Ohio River at Cairo, Illinois, to the beginning of the commercial shipping channel at Minneapolis, Minnesota, covers a distance of about 843 river miles. The UMR is no longer entirely free-flowing, as a series of 29 locks and dams now control 642 miles of its northernmost portion. The head at the dams during low flows ranges from about 7 to 38 feet, but approaches zero at most dams during high flows.
The UMR supports 143 species of indigenous fish, with both a recreational and commercial fishery. Dams, however, have been found to restrict fish movements in regulated rivers throughout the world. Upper Mississippi River dams have been thought to be at least somewhat of a barrier to fish passage, but little quantification of the problem has been found.
The restricted movements of fish may have many consequences. For instance, the reproductive success of fish may be reduced because they encounter limited access or delay in reaching suitable spawning areas and because fish have limited access to feeding areas, their growth rates may be reduced. Dams restrict the fish' access to suitable overwintering areas; thus, their overwinter survival is reduced. Furthermore, because so many fish and anglers are concentrated in tailwater areas, exploitation rates are increased. Young-of-year and small fish may be subject to increased mortality and predation when stressed or disoriented by downriver passage through a dam.
These consequences of restricted fish passage through dams may limit the geographic range of certain fish and may combine to reduce the size and health of fish populations in the UMR. Genetic isolation of fish stocks is also a possibility. Reduced geographic range and abundance of fish may have other ecological effects. Genetic isolation, near-complete interruption of recruitment, and near extirpation of the Ebony Shell mussel in the northern reaches of the UMR has been attributed to the markedly reduced upriver migrations of the Ebony Shell's fish host, the Skipjack herring.
The objectives of this study are as follows:
Identify UMR migratory fish species.
Examine the records of fish movements through UMR dams and relate them to the head at each dam.
Estimate current velocities through gate openings on UMR dams.
Examine information on migration behavior and estimate the swimming performance of UMR migratory fish
.
Estimate the opportunity for upriver movement of adults of UMR migratory fish species through navigation dams
.
Identify and evaluate the potential consequences of restricted fish passage and identify key information gaps
.
Identify and evaluate operational and structural alternatives for improving fish passage at UMR navigation dams. The work involves all dams on the UMR between Minneapolis, Minnesota, and St. Louis, Missouri, bordering the states of Illinois and Missouri.
The project was completed in September 1999.