Upper Midwest Environmental Sciences Center
Ecological Interactions between Aquatic Macrophytes and Fish in Lake Onalaska, Pool 7, Upper Mississippi River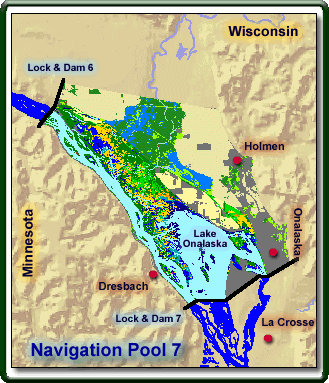 In the Upper Mississippi River, more than 80 species of fish use vegetated habitats during some portion of their life cycle. Fish depend on aquatic vegetation for abundant, high-quality food resources (plant-associated invertebrates) and refuge from predators.
Many backwaters in the Upper Mississippi River historically contained large beds of aquatic vegetation.Vegetation abundance in the Upper Mississippi River substantially declined in the late 1980s, but began to rebound in the late 1990s. These major fluctuations in vegetation abundance could greatly influence the value of backwater habitats for fish.
To investigate the ecological relations between aquatic vegetation and fish, we sampled bluegills and largemouth bass at 21 stations in Lake Onalaska, a large backwater lake in Pool 7 of the Upper Mississippi River, from fall 1994 through fall 1998.
Growth and abundance of these two key fish species during the study will be analyzed in combination with historical data on fish growth and estimates of vegetation abundance from aerial photographs to develop models of fish-vegetation linkages.
Results from this study will help state and federal resource managers better understand the effects of the decline in aquatic vegetation on fish in the Upper Mississippi River and provide information for managing vegetated aquatic habitats for fish populations in the Upper Mississippi River and other large rivers. This project was completed in September 2000.
Principal Investigator: Steve Zigler