Upper Midwest Environmental Sciences Center
Genetic Characterization of the Endangered Mussel Lampsilis higginsi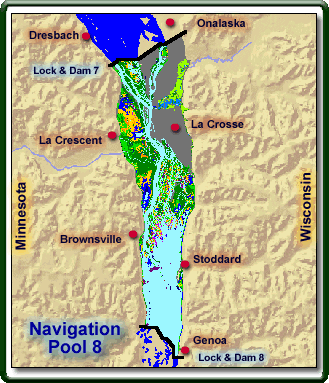 Lampsilis higginsi (Higgins' Eye), a federally endangered unionid mussel now found only in the Mississippi, St. Croix, and Wisconsin Rivers, has suffered a 50% reduction in its range since 1965.
Populations of L. higginsi in the Mississippi River Basin are threatened with extirpation by the exotic zebra mussel. As a result, refuges in rivers that are free of zebra mussels have been proposed to preserve this species.
However, genetic variation of populations among and within rivers where L. higginsi reside is unknown.
The goals of this research are as follows:
Determine the genetic structure of the species within and between major rivers.
Identify genetically distinct populations. We used mitochondrial DNA-sequence variation to characterize the genetic structure of L. higginsi.
Our results suggest that populations found at two sites in the Upper Mississippi River and one in the St. Croix River are essentially all part of the same genetic metapopulation.
Three L. higginsi had the same form of the cytochrome-b gene as L. siliquoidea; that is, three animals were phenotypic higginsi but had mitochondrial DNA that was genetically identical to the L. siliquoidea (a closely related unionid mussel on which molecular techniques were developed). If this is a general pattern, the implication is that we cannot reliably identify an organism currently listed as endangered.
We must analyze nuclear DNA to determine whether these individuals were misidentified. Ultimately, endangered species specialists will use information from this project to help develop management recommendations for conservation of L. higginsi.
The project was completed in September 2000.
Product:
Bowen, B. S., and W. B. Richardson. 2000. Genetic characterization of Lampsilis higginsi. Final report submitted to the U.S. Fish and Wildlife Service, Endangered Species Program, Bloomington, Minnesota. 24 pp.
Principal Investigators: Bill Richardson, Upper Midwest Environmental Sciences Center,
and Bonnie S. Bowen, Department of Animal Ecology, Iowa State University