Upper Midwest Environmental Sciences Center
Effects of Ammonia on Unionid Mussels: A Potential Threat to Their Biodiversity in the St. Croix National Scenic Riverway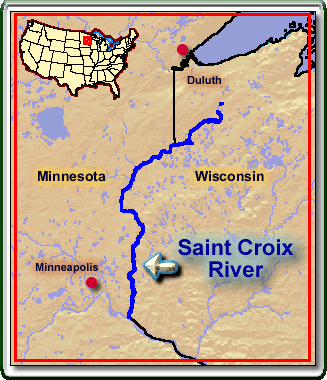 The St. Croix River Basin is experiencing a rapid change in land use, from forest and agriculture to suburbanization, as the metropolis of Minneapolis-St. Paul, Minnesota, sprawls into the surrounding countryside.
The National Park Service is concerned that increased urbanization will increase the output of nutrient-laden effluent from wastewater treatment plants and other nonpoint sources into the St. Croix River. This could result in elevated levels of ammonia in sediments.
The St. Croix River System contains an extremely abundant and diverse group of freshwater mussels, animals sensitive to changes in habitat quality. Increased concentrations of ammonia in sediments pose a significant threat to these organisms.
We will measure ammonia concentrations in sediments at selected sites along a 90-mile reach of the river and determine if the patterns in ammonia correspond with the distribution patterns of mussels living in these sediments.
Second, we will place juvenile mussels (the most sensitive life stage) at these sites to determine if existing ammonia concentrations adversely affect the survival or growth of the mussels. We will then conduct toxicity tests in the laboratory to determine the lowest concentrations of ammonia that are harmful to juvenile mussels.
We will begin field and laboratory work in spring 2000 and continue through 2001. Results from this project will establish scientifically defensible data for developing management plans. These management plans will minimize nutrient enrichment and help managers predict the effects of increased nutrient concentrations on biota.
The project was completed in September 2001.
Principal Investigator: Teresa Newton