Upper Midwest Environmental Sciences Center
Obtain and Summarize Five Annual Increments of Limnological Monitoring Data for Selected Reaches of the Upper Mississippi River System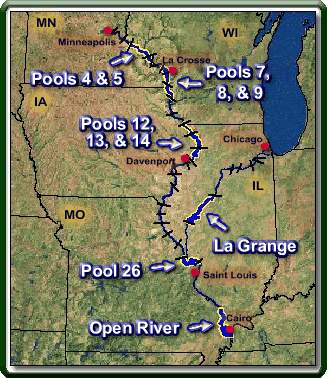 Repeated surveys have shown that of issues related to the Upper Mississippi River, water quality is frequently mentioned as the highest priority by the public.
The Long Term Resource Monitoring Program (LTRMP) measures fundamental physical and chemical characteristics of the river system that influence the suitability of the river for aquatic life.
Parameters of interest primarily to regulators, health authorities, and pollution control agencies (e.g., pesticide residues, PCB, biochemical oxygen demand, and bacterial counts) are routinely sampled by these other agencies and not under LTRMP.
More than 100,000 limnological samples have been collected from the six study areas and more than 300,000 chemical analyses were performed from1988 through 1999.
The report, Ecological Status and Trends in the Upper Mississippi River System (1998), summarized some of the results of this monitoring.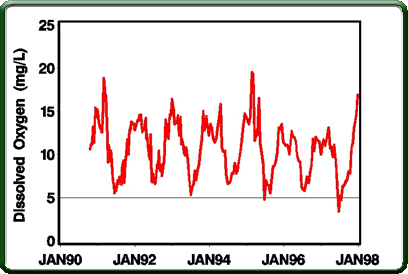 We are producing a series of reports that document and summarize these voluminous data for individual reaches. Publications that address relations among the monitored variables and long-term changes in the system are also in progress.
The data produced from LTRMP water quality monitoring are used routinely by Program Partners for water quality assessments (i.e., Clean Water Act) and by resource managers.
The LTRMP monitoring data have been presented at national and international conferences and incorporated into open literature publications.
The project terminated in October 2001.