Upper Midwest Environmental Sciences Center
Ecocriteria to measure the health of the Upper Mississippi River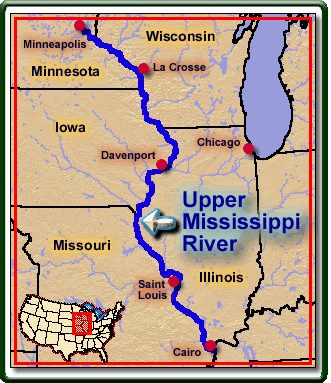 In 1999, scientists at UMESC proposed initial ideas for a system to measure the ecological health of the Upper Mississippi River (UMR). We recognized at the time that more work was required in several areas for the system to be refined into a practical, operational process to evaluate progress to restore the river's degraded natural resources.
In 2000, we are proceeding on two fronts toward that goal. First, we will complete several planning steps for a joint project with federal and state EPA offices that will focus on the UMR as a demonstration site for approaches that could be applied to other large rivers of the USA.
The project will involve detailed evaluations of hydrologic, landscape, and ecological variables (i. e., potential "ecocriteria") to determine which ones provide simple, understandable, and cost-effective "barometers" of river health.
The first collaborative planning workshop for this project was held on October 23, 1999. An idea document, written by workshop participants and intended to describe the objectives, scope, and content of the proposed project to participating agencies, will be distributed in mid-summer.
Second, we will participate in a workshop to present the concepts of river ecological health and history to local community leaders. The workshop will be co-sponsored by the Science Museum of Minnesota, the Prairie Island Indian Community and the Institute for Agriculture and Trade Policy.
The river's ecological history, based on both traditional science and a 10-generation spoken record, will be presented. Participants will be challenged to identify ecosystem variables that they will value most highly as they restore local river conditions.
Principal Investigator: Ken Lubinski
Poster presentations available: