Constructed farm ponds represent significant breeding, rearing, and overwintering habitat for amphibians in the Driftless Area Ecoregion of southeastern Minnesota, western Wisconsin, and northeastern Iowa, a landscape where natural wetlands are scarce. Despite intensive agricultural use adjacent to the ponds, these ponds harbor an abundance of frogs and toads. This region contains thousands of farm ponds constructed with cost-sharing dollars from the U.S. Department of Agriculture and the states.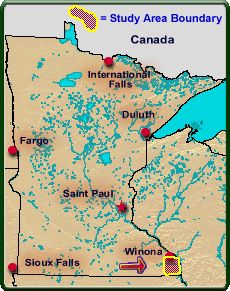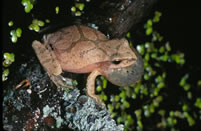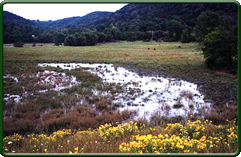 We studied constructed farm ponds and natural wetlands in southeastern Minnesota during spring and summer 2000 and 2001 (Figure 2). We collected amphibian and habitat data from 40 randomly selected ponds, 10 ponds in each of four surrounding land use classes: row crop agriculture, grazed grassland, ungrazed grassland, and natural wetlands.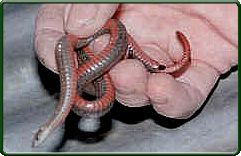 Over the 2 years of the study, we identified 10 species of amphibians at the ponds (Figure 3) including the tiger salamander (Ambystoma triginum), American toad (Bufo americanus), eastern gray treefrog (Hyla versicolor), chorus frog (Pseudacris triseriata), spring peeper (Pseudacris crucifer), green frog (Rana clamitans), wood frog (Rana sylvatica), leopard frog (Rana pipiens), and pickerel frog (Rana palustris).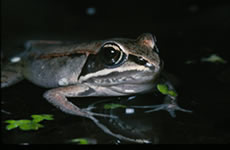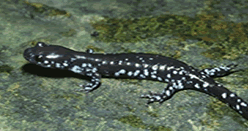 The primary functions of farm ponds are to prevent soil erosion and create wildlife habitat, yet no studies have been conducted to determine how the ponds benefit wildlife.
We asked the following questions:
How are measures of amphibian individual, population, and community health associated with land uses surrounding the pond, such as row crops, grassland, and grazed grassland?
Are measures of amphibian individual, population, and community health more associated with surrounding landscape features or within-pond characteristics? (Figure 1)
What design features associated with a pond (size, depth, and vegetation) will maximize wildlife benefits?
Our goal was to identify farm management practices that lead to sustainable amphibian populations, high diversity, and low incidence of deformities. We are also developing a guide to the design, construction, and management of farm ponds for use by contractors, private landowners, and state or federal agencies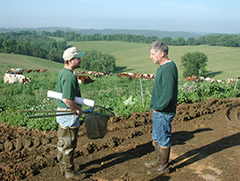 Weather conditions during the 2000 field season were dry in May, followed by heavy rainfall in late May through July. In 2001, steady April and May rains led to wet conditions early in the season, followed by a summer drought. We were fortunate to be able to study the same 40 ponds in both seasons.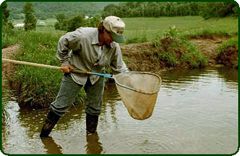 The blue-spotted salamander (Ambystoma laterale) was identified at a single natural wetland. We observed high abundances of the American toad, eastern gray treefrog, and green frog at many ponds.
Six species of snakes and two turtle species were observed at the ponds over the 2 years of the study (Figure 4). The common garter snake (Thamnophis sirtalis) was the most frequently encountered reptile (18 ponds), followed by painted turtles (Chrysemys picta) (11 ponds).